Yasmin: By The Book
Winter is coming. Or if you live in Scandinavia, it has been here for weeks. And nothing says winter more than watching New Yorkians on TV struggle with a few centimetres of snow on our TV's in our igloos here in the north. For that reason I thought I'd do the NY Times Book Tag in honour of my friends across the pond. Created by Marie Berg.
What books are currently on your night stand?
I don't even have a night stand… My books are usually in my bookshelf(that I now have room for after 2 years in cramped student apartments) or in my bed.
Currently, my bed is inhabited by me and this new book called Good Morning, Midnight by Lily Brooks-Dalton. I've brought it up a bunch but I cannot wait to read this! I came home yesterday past midnight and stayed up until my morning class so I haven't had time to start it, but tonight or tomorrow night depending on my schedule!
At my parents house I'm reading A Good School by Richard Yates. It sexualises young men quite a lot and I felt like I needed a break from it before I finished it, so I left it at 32 pages…
What's the last great book you read?
A Little Life by Hanya Yanigahara is the best book in the world. This is not a subjective opinion but a true fact. I'm still FURIOUS that it didn't win the Man Booker Prize even though it clearly deserved it… Yes, I'm bitter and petty. It's a highly diverse book about 5 friends living in New York.
If you could meet any writer – dead or alive – who would it be? And what would you want to know?
Easy! JK Rowling. I just want to know why she hates Draco so much…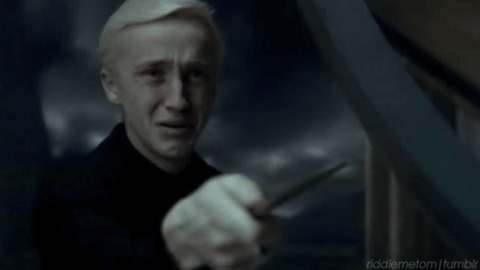 What books might we be surprised to find on your shelves?
I don't have that many "surprising" books, but I have quite a lot of religious booklets from various religions. I travel a lot for pleasure as well as business and I love to get to know the regional culture and religion and save any pamphlet and booklets they might hand out… I also have Blood Meridian by Cormac McCarthy.
How do you organize your personal library?
I don't live at home anymore, where most of my books are, so my mom has completely changed my organisation. And she… hires a decorator to do that who has grouped my books in genres with series on one shelf and standalones on another.
What book have you always meant to read and haven't gotten around to yet? Anything you feel embarrassed never to have read?
I'm quite embarrassed over not having read The Mortal Instruments in the YA community… But I'm also annoyed over not having read Karin Boye, a Swedish lesbian writer born 1900 that lived in my neighbourhood! Her poems are ethereal and written in the most poignant prose in Swedish. Learn Swedish and read them, the translation does not do them justice…
Disappointing, overrated, just not good: what book did you feel you were supposed to like but didn't? Do you remember the last book you put down without finishing?
I DNF a lot of books because I don't have the patience for books written in first person. If they're not fire from the start don't expect me to continue it… The last book I put down was Three Dark Crowns by Kendare Blake. It's about three sisters that have to kill each other to become queen. Sounds interesting but I could barely get through the first few chapters and the writing was horrendous… Everyone seems to love it but I can't seem to get into it even after two attempts.
What kinds of stories are you drawn to? Any you stay clear of?
I'm interested in books that will challenge my view in some way. I love to read YA fantasy because they seem to defy any form of logic and reason that anchors me to the real world. It's amazing what the mind can produce just with a little bit of fantasy… I stay clear of books that have been branded as problematic in any way because I don't want to upset myself. Otherwise I love to read all genres…
If you could require the president to read one book, what would it be? 
In Sweden we have a prime minister… And I would want him to read any book written by Randa Abdel-Fattah. The muslim community is ever growing in Sweden and girls/women choosing to wear the hijab are persecuted and bullied by their peers. It is hard to be a muslim woman in Europe today and I wish the prime minister would have an insight to how it really is.
What do you plan to read next?
You can read that right here!